Howto enable Unix Attributes in Windows 2003 R2
14 Nov 2006
With the latest version of Windows Server 2003 R2 it is no longer needed to install Windows Services for UNIX, since this is now a part of Windows Server 2003, though not enabled by default.

To enable it open Control Panel -> Add or Remove Programs. Now click on Add/Remove Windows Components. Double click on Active Directory Services and select Identity Management for Unix.
After this… surprise… you have to restart the Windows Server :-D
Now you should be able to see the "Unix Attributes"-tab when looking on properties for a user.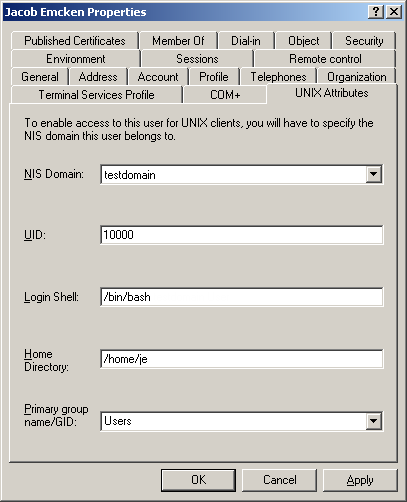 Howto enable Unix Attributes in Windows 2003 R2
by
Jacob Emcken
is licensed under a
Creative Commons Attribution-ShareAlike 4.0 International License
.